Messages from our Administrator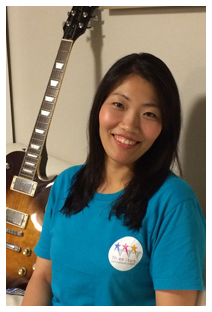 During my last ten years working with children, I have had the pleasure of spending precious time with over 200 children. During this time I've observed the personalities and possibilities for each child. As time went on, I felt a strong desire to make a tribute to society because of all my wonderful experiences. Now, that desire has become reality. Whether or not both parents are working, all parents want a high level education or well experienced teachers and nurses for their children. Both of these we can provide here at Three Stars International School, and I am happy to be of service.
Through social events and other school events, we expect your child's maturity level and basic knowledge to increase immensely. We also expect your child's level of creativity and independence will increase, promoting healthy mental and physical growth. Manners are taught in a firm but peaceful way throughout their daily school routine. Though we cannot teach your child to be social or cooperative, we will be encouraging those at every step of the way during your child's education in our school. All teachers and staff will face your child with love, respecting their personality. That is because we want each child to have self-confidence and also recognize that others are "different", everyone is unique.
The reason children should learn all these things in a full-immersion English environment is that when they succeed, they will develop an "English Brain(英語脳)". This "English Brain" is located in a different area than "Japanese Brain", in the section of the brain which controls linguistic functions. The term "English Brain" describes the portion of the brain which one uses to listen, think, respond, and express one's thought all in English. The majority of the Japanese population grows up and learns English with only their "Japanese Brain". It is well known that people studying abroad dream and talk in English while sleeping. This is a direct result of developing their "English Brain", which is obtained by being in a fully immersed English environment.
As you know, between the ages of 0-3 is the most important period for the child's cerebral development. During this period it is said that the brain can demonstrate one's power to soak up knowledge and have the capacity for adaptation to the fullest extent. Because of this, it is very important for children themselves and it is the best chance for their brain to develop dramatically.
A child's learning capacity depends on how much exposure they receive to various different experiences during this period. I myself have a daughter who is three years old. She can comprehend and communicate very well in both Japanese and English. Many parents worry about their child's Japanese level if the child attends a full-immersion English school. However, my child, along with the children I have met over the past few years are living proof that all children can learn to use both languages properly for every situation. The child's brain has marvelous ability and capacity to continue growing and learning even beyond the apex!
In order to expand a child's potential and develop their individuality, we at Three Stars will take your children to many places for them to play, learn, experience many kinds of things and expose them to many different situations. During the summer we will have overnight field trips to the mountains and rivers to place ourselves in the midst of Mother Nature. When the children are placed in an isolated situation such as this, they can relax their minds, rethink their actions, decisions and goals, and renew their desire to keep challenging new things.
Children are "treasure" for our country. In order to polish up our "treasure" and create a bright future for them, all teachers and staff at Three Stars International School will be working their hardest to give your child the best learning and growing experience that any child can receive.
By educating and nursing your precious child, our goal is to give them the basic tools they will need to create a wonderful world around them and plant many "sprouts" of passion!
Sincerely,
Three Stars International School
Iori Hirota
01 April 2014
---
Administrator Iori Hirota  
- Profile -
Educational Background & Work History
Apr'98
Enrolled in Funabashi Prefectural High School
Sep'99
Studied abroad at Hudsonville Public High School in Michigan State
Mar'01
Graduated from Funabashi Prefectural High School
Sep'01
Enrolled in Comparative Culture department of Sophia University, Tokyo
Sep'02
Studied abroad for a year at St. Joseph's University in Philadelphia State, majoring in Philosophy and Art
Mar'05
Graduated from Sophia University
Apr'06-Oct'06
Tsunahachi, Tokyo
Position: Manager
Helped the company to open up overseas market by creating a plan to popularize Japanese traditional food culture in foreign countries. At that time, I noticed the need of good childhood education in places around the world.
Oct'06
Imagawa Gakuen, Chiba
Position: School Nurse
This is my mother's school and she has been running it for 32 years now. I Took care of children between ages one to six. During this time I attended night classes to obtain my teaching license.
-Mar'12
Imagawa Gakuen, Chiba
Position: Manager
I was in charge of many different tasks around the school to assist in upkeep and maintenance, while assisting in and ensuring positive moral around the workplace. I also had my own English classes where I taught children between the ages of three to six years old.
Apr'12-Mar'14
 International School, Yokohama
Position: Staff
I assisted in the completion of various tasks around the school, including but not limited to craft preparations, submission of numerous craft and cooking ideas, school upkeep, and supervising students during daycare hours, all the while staying focused on the necessities of a quality international school.
April'14-Present
Three Stars International School
Position: Administrator