Hiragana Study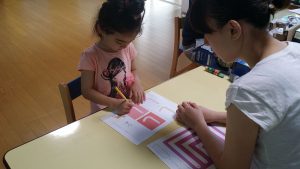 Following some parents' requests we have started a daily Hiragana study period during Extension Time.
We know some parents feel it is important that their children are able to read and write hiragana before entering elementary school.
Therefore we have introduced a free 30 minute hiragana study period for kids aged four and above.
This instruction will be given in Japanese by an experienced former Japanese cram school teacher.
We will begin by teaching students how to make strong lines using mazes, then move on to writing the letters.