On December 25th we will have a musical concert for the children featuring two professional musicians!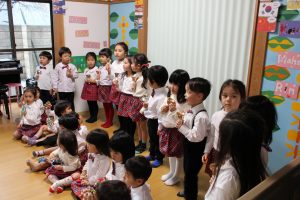 Our schedule for the day:
10:00~10:30 Concert for children featuring a professional saxophonist with piano accompanist.
10:45~11:30 Playing in the park.
11:30~12:00 Santa Clause is coming to school?!
12:00~13:00 Christmas Lunch
13:30 Children's performance & family games
*All children have sent letters to Santa. We expect Santa will be returning them to school for the children to keep, along with his reply!